This project had it all! Tight access, raw sewage, musty air, and challenging plumbing solutions. Josh, Davis, and Jon put in a long day and got this all done in one day. This customer had been quoted over $5,000 by another plumber a few years ago to fix her many plumbing issues, but he never showed back up after getting a deposit. We offered her an upfront price with documentation showing what needed to be done, and no payment until all of the work was completed and documented. She was so excited to be able to use her plumbing properly (more than 1 thing at a time) and relieved to know that she now has a long lasting and reliable drain system. To see what this piping looked like and hear our diagnosis, click on the videos below.

Terrible guest bath plumbing with improper tub trap and no venting.
Powder room toilet isn't vented and sink drain/vent is not tied in properly


aster bathroom Toilet and Vanity are connected with sagging rubber fittings. They are not vented properly and can't drain well.
Now you can see how much better it is run in the pictures below. We replaced all of the fittings that were sagging and bowing, applied proper pitch to all of the piping, tied the vent lines to the drain branches so that all of the fixtures were properly vented, and anchored all of the pipe to prevent future sagging. We also repaired damage to the pipe that prenetrated the foundation wall and properly sealed it back up to prevent water from entering the crawlspace.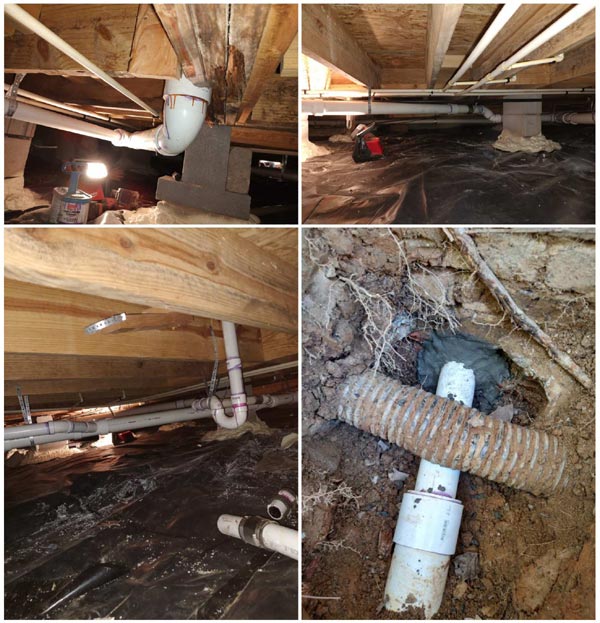 If you are fighting a plumbing battle, let us show you why we are the best drain repair plumber in Canton. We can handle clogs, sagging drain lines, broken drain connections, and much more. Give us a call today to make your plumbing problems go away!