Woodstock, GA, Plumbing Services
Don't let water leaks damage your property. Call Performance Plumbing for reliable plumbing solutions in Woodstock, GA, and nearby areas like Holly Springs, Big Canoe, and Milton!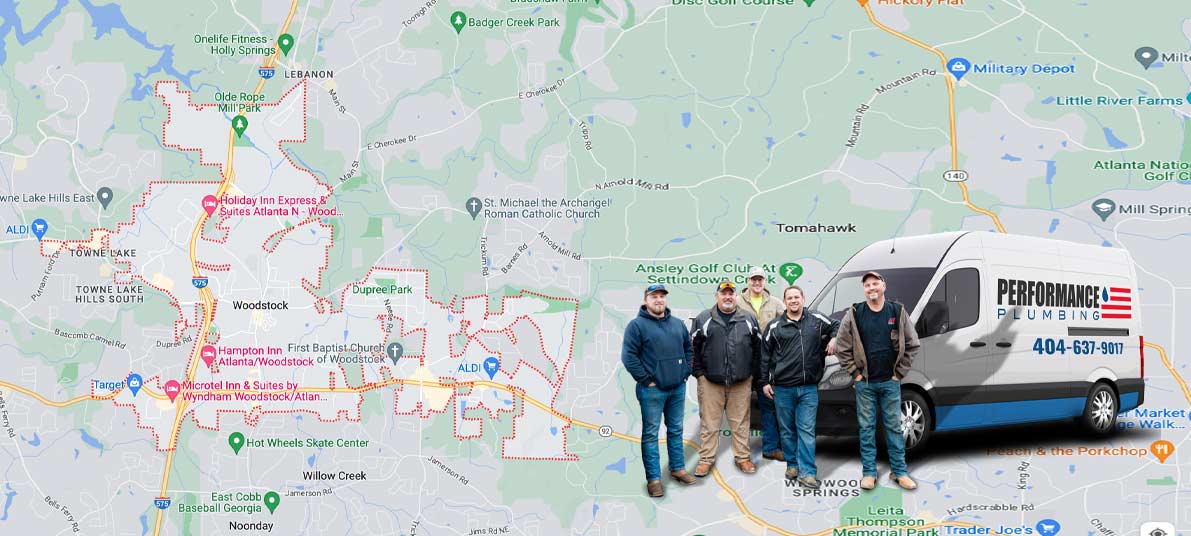 If you need a qualified Woodstock plumber, Performance Plumbing is the residential plumbing contractor to call. Woodstock, GA, residents have enjoyed our top-notch plumbing services since 2016. You can be certain we have the skills and equipment to address all your plumbing needs.
Whether it's plumbing repair, hot water tank replacement, water heater maintenance, or any other service, we guarantee 100% satisfaction.
Why delay any further? Connect with our professional and clean technicians to discuss your needs and get a free in-person estimate now!
Is your old water heater giving you trouble? Turn to Performance Plumbing for a new water heater installation at an unbeatable price!
Water Leak Detection & Burst Pipe Repair in Cherokee County, Georgia
Time is of the essence when you have a burst pipe or water leak in your home. These issues can quickly escalate to severe water damage. Obviously, the last thing you want is to spend thousands of dollars repairing a water-damaged foundation or wall.
Knowing who to call when a pipe bursts can help you avoid the headache of water damage. If you need a reliable plumber in Woodstock, GA, to repair your burst pipe or water leaks, our experts at Performance Plumbing can exceed your expectations.
We use advanced equipment and techniques to accurately detect water leaks and repair damaged pipes as quickly as possible. Our on-time service will give you peace of mind knowing that your property is safe from water damage.
Drain Cleaning Services in the Greater Atlanta Metropolitan Area
Maintaining proper drainage of your home's wastewater is essential to keep your loved ones healthy and comfortable. Unfortunately, cleaning blocked drains is not a simple task, and doing it yourself can be a messy affair.
It's best to leave your clogged drain repair and cleaning needs to a certified drain cleaning company like Performance Plumbing.
But how do you know you have a blocked drain? Look out for these common signs:
Slow-draining showers, bathtubs, and sinks
Backup of water around the drains
Water puddles in your lawn
Strange odors around your home
Our trusted technicians will recommend the most suitable solution depending on the location and size of the blockage. This could be hydro-jetting, snaking, or pipe section replacement.
Don't wait until a minor leak grows into a costly problem. Call our experts at Plumbing Performance for professional water leak repair today!
Hot Water Heater Repair, Maintenance, and Installation Services in Woodstock, Georgia
Need a qualified residential plumber to help with your water heater woes? Performance Plumbing offers a wide range of electric and gas water heater services.
From a minor hot water heater repair to a sophisticated heater installation project, we've got you covered on all ends. We're also your go-to for reliable tankless water heater services in Georgia and beyond.
Our team often recommends tankless systems because they not only provide instant hot water while saving energy, but they are also less problematic than their traditional counterparts!
Don't worry if you're tight on budget and feel you can't afford a new tankless water heating system. Our flexible financing options will take care of that.
Recent Jobs and Reviews in Woodstock, GA
Ready for top-level plumbing solutions from a top-rated plumber in Woodstock, GA, or nearby areas like Cumming, Jasper, and Canton? Give Performance Plumbing a call at 404-637-9017 to discuss your needs and request immediate service today!