Holly Springs, GA, Plumbing Services
Don't let leaky pipes and appliances destroy your property. Call Performance Plumbing for reliable solutions in Holly Springs, GA, today! We also serve surrounding cities like Cumming, Woodstock, and Milton.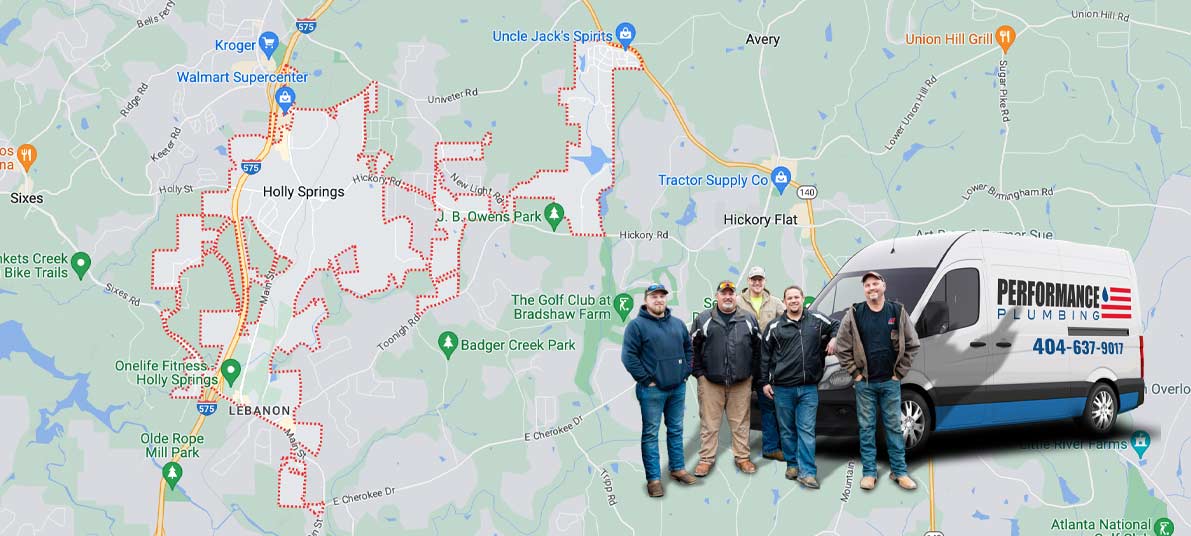 The plumbing is an integral component of your residential or commercial property. When you need a reliable Holly Springs, GA, plumber, you can trust Performance Plumbing to exceed your expectations.
We have a 5-star rating on Google, so you can be confident we know our stuff. Whether it's plumbing repair, hot water tank replacement, water heater maintenance, or any other service, we guarantee you 100% satisfaction, even if a previous plumber has given up on fixing the issue!
Is your bathroom sink broken? Performance Plumbing offers top-level bathroom sink replacements in North Metro Atlanta at unbeatable prices.
Water Leak Detection & Burst Pipe Repair in Cherokee County
You can't afford to waste time when a water pipe bursts on your property. The last thing you want is to spend thousands of dollars fixing the aftermath of water damage.
When you need a qualified residential plumber to repair your pipes and prevent further damage quickly, Performance Plumbing is just a phone call away! We use advanced equipment to detect water leaks accurately and recommend a durable solution.
Apart from on-time service and no service call fee, you can expect straightforward pricing. We won't catch you unawares with additional charges on your bill.
Drain Cleaning Services in the Greater Atlanta Metropolitan Area
Drainage of wastewater is essential for upholding a healthy living environment. But cleaning clogged drains yourself can be a messy affair. You're better off hiring an experienced drain cleaning company to handle the task for you.
Not sure if it's time for a drain cleaning service? Look out for these common tell-tale signs:
Backup of water around your drains
Foul odors around your home
Slow-draining bathtubs, sinks, or showers
Water puddles in your yard
At Performance Plumbing, we use different clogged drain repair techniques depending on the location and size of the blockage. This could be hydro-jetting, snaking, or pipe section replacement.
Want to install a new water heater? Reach out to Performance Plumbing for all your water heater installation needs in Holly Springs, GA.
Water Heater Services in Holly Springs, GA
Is your water heater giving you trouble, and you're looking for a certified Holly Springs plumber to offer a lasting solution? We're the go-to residential plumbing contractor for top-quality electric and gas water heater services in Holly Springs, GA.
From simple hot water heater repair to sophisticated water heater installation, we've got you covered on all ends. We also offer expert tankless water heater services.
Consider a tankless system if your traditional water heater is too old and breaks down every few days or weeks. Some of the benefits of tankless water heaters include:
Space savings: A tankless heating system is relatively compact and would snuggly fit into your wall
Instant hot water: Flash heating ensures you get hot water when needed
Energy savings: These systems are more efficient than their traditional counterparts, so you'll save thousands of dollars on energy bills in the long run
Recent Jobs and Reviews in Holly Springs, GA
Ready for top-quality plumbing services from a qualified Holly Springs, GA, plumber? Give Performance Plumbing a call at 404-637-9017 to request immediate assistance today! We proudly serve Jasper, Canton, Big Canoe, and surrounding areas of North Georgia.