Hickory Flat, GA, Plumbing Services
Don't let defective plumbing hamper your daily activities. Call Performance Plumbing for reliable plumbing solutions today!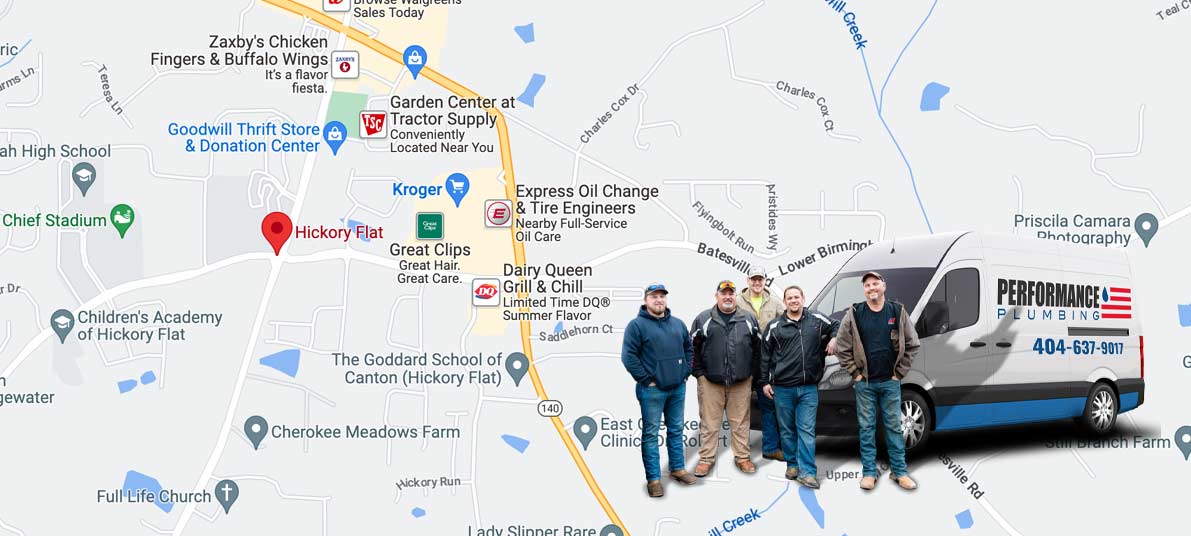 If you need a skilled Hickory Flat plumber to address your plumbing problems, our experienced Performance Plumbing team will undoubtedly exceed your expectations. We've provided top-notch plumbing services in Hickory Flat, GA, since 2016.
Whether it's plumbing repair, hot water tank replacement, water heater maintenance, or any other service, we guarantee 100% satisfaction.
Why delay any further? Contact our professional and clean technicians to discuss your needs and get free in-person estimates.
Are you considering upgrading your water heater? We offer reliable water heater installation services at unbeatable prices.
Water Leak Detection & Burst Pipe Repair in Southeastern Cherokee County
Never downplay water leaks in your Hickory Flat, GA, home. Even a minor leak can quickly escalate to severe water damage costing you thousands of dollars to fix. You certainly don't want that to happen.
Don't hesitate to call Performance Plumbing at the first sign of trouble.
Even if you suspect a water leak but can't figure out the source, we've got you covered. We use advanced technology to detect water leaks and repair burst pipes effectively and efficiently.
Don't let water damage your property. Contact our team for on-time burst pipe repair services that won't hurt your wallet.
Drain Cleaning Services in the Greater Atlanta Metropolitan Area
Keeping your drains clean and flowing is essential for a healthy home. But cleaning clogged drains is more complex than you may think. Trying to do it yourself can result in a real mess!
It's best to leave your clogged drain repair, and cleaning needs to a reputable Hickory Flat plumber with the right skills and equipment. Performance Plumbing is your go-to drain cleaning company in the Hickory Flat, GA, area.
Call us when you experience any of these issues:
Multiple clogged drains: This may indicate a clog deep inside your plumbing system.
Gurgling sounds: Don't hesitate to call us if you hear strange noises in your drains.
Slow drains: A clog could be hampering efficient drainage.
Strange smells: A build-up of debris in your drains over time could result in a foul odor.
Are you thinking about getting new bathroom faucets? Contact us at Performance Plumbing to discuss your bathroom faucet replacement needs and get top-notch service.
Water Heater Maintenance, Repair, and Replacement Services in Hickory Flat, Georgia
Need a reliable residential plumber to help you tackle your unending water heater problems? At Performance Plumbing, we offer a wide range of electric and gas water heater services at unbeatable prices.
Whether it's hot water heater repair, installation, or routine maintenance, no task is beyond our technicians' capability. We also provide top-level tankless water heater services. If repairing your old water heater no longer makes financial sense, we can help you find a tankless system that suits your needs and budget.
We often advise our customers to install tankless systems because they provide higher efficiency, have few issues, and deliver instant hot water. You'll also save significant space on your property!
Recent Jobs and Reviews in Hickory Flat, GA
Ready for reliable water heater and plumbing services from a certified Hickory Flat plumber? Performance Plumbing is the residential plumbing contractor to call. Reach us at 404-637-9017 to discuss your needs and request immediate assistance today!