Canton, GA, Plumbing Services
Don't let plumbing issues hamper your daily tasks. Call Performance Plumbing today for reliable solutions in Canton, GA, and beyond!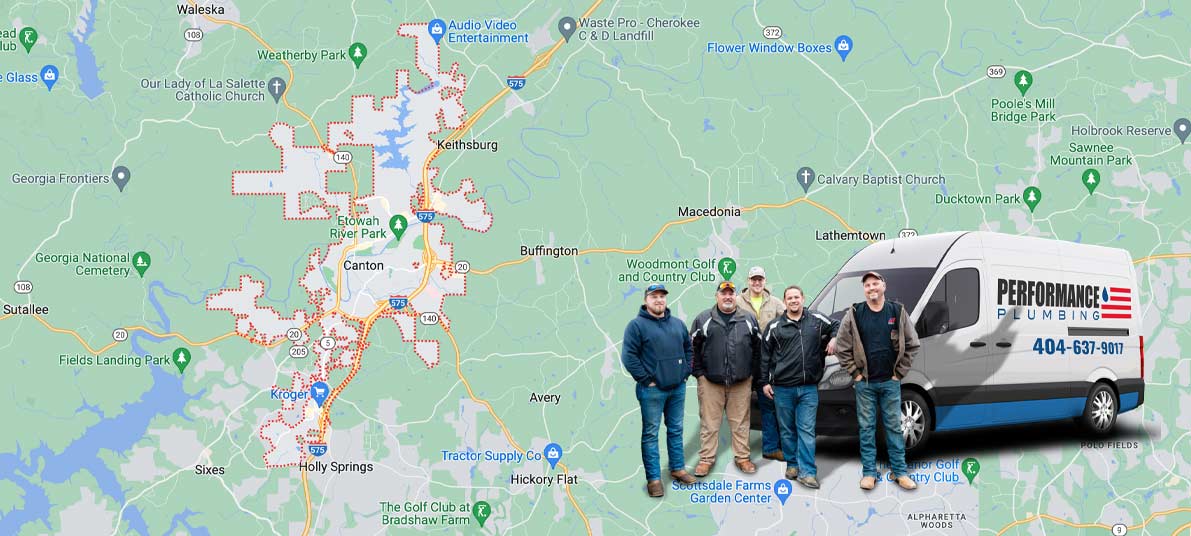 The plumbing system is integral to your residential or commercial property in Canton, GA. So you must give it extra loving care and ensure it's in good shape all year round. If you need a qualified plumber to handle your plumbing needs, turn to our experts at Performance Plumbing.
Whether it's plumbing repair, hot water tank replacement, water heater maintenance, or any other service, we guarantee 100% satisfaction. Call us today to discuss your needs and schedule your service.
Need reliable repiping services in Canton, GA, or a nearby area? Call Performance Plumbing for more information and get a free in-person estimate!
Water Leak Detection & Burst Pipe Repair in Cherokee County, Georgia
Water pipes can burst when you least expect it, which can be disastrous if you don't act quickly. You want to be sure you have a reliable plumber in Canton, GA, you can call when things go wrong with your plumbing system.
Here at Performance Plumbing, your comfort and safety is our priority. We use the latest technology and techniques to accurately detect water leaks and repair your burst pipes as quickly as possible.
Thanks to our on-time service by trusted technicians, you can rest easy knowing your property will be safe from water damage in case of a leak or burst pipe.
Drain Cleaning Services in the Greater Atlanta Metropolitan Area
Ensuring the free drainage of wastewater will help you maintain a healthy environment for your loved ones. If you have a clogged drain, don't hesitate to call a qualified drain cleaning company.
Cleaning a blocked drain is not as simple as you may think. Trying to do it yourself without proper training or equipment can be disastrous. You should call us for professional clogged drain repair or cleaning if you notice any of these issues:
Multiple clogged drains: This often indicates a blockage deep in the plumbing system.
Gurgling sounds: Don't delay calling us for drain cleaning when you hear strange gurgling noises.
Slow drains: If the water takes unusually long to flow, a clog could impede efficient drainage.
Strange odors: The debris build-up in your drains over time can cause unpleasant smells.
Our background-checked technicians will recommend hydro-jetting, snaking, or pipe section replacement, depending on the location and size of the clog.
If you need top-level toilet repair services, Performance Plumbing has your back. Give us a call to learn more.
Hot Water Heater Repair and Replacement Services in Canton, Georgia
Need a certified residential plumber to help with your water heater issues? Our team at Performance Plumbing will exceed your expectations. We provide top-notch electric and gas water heater services at unbeatable prices.
Whether it's hot water heater repair, replacement, or installation, no task is beyond our capability. We also offer a range of tankless water heater services. We often advise our customers to upgrade to tankless systems to enjoy benefits like instant hot water, space savings, and increased efficiency!
Recent Jobs and Reviews in Canton, GA
Ready for reliable plumbing solutions from a five-star rated residential plumbing contractor? Performance Plumbing is your go-to plumber in Canton, GA. Give us a call at 404-637-9017 to request immediate service today!