Big Canoe, GA, Plumbing Services
Dealing with a clogged drain or faulty water heater? Call Performance Plumbing for reliable plumbing solutions in Big Canoe! We proudly serve Holly Springs, Milton, GA, and surrounding North Georgia areas.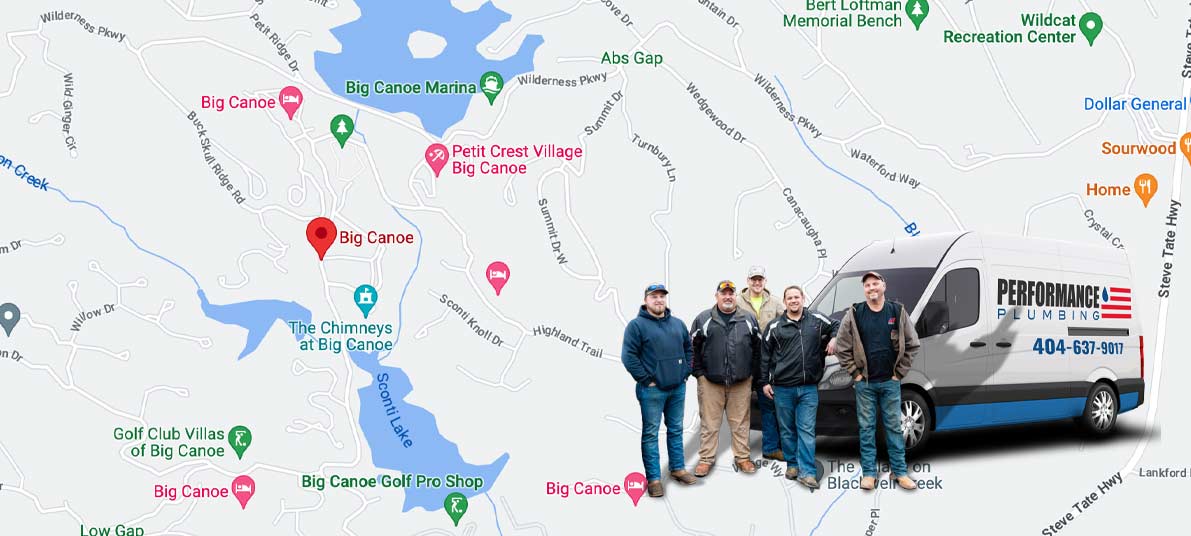 If you need a qualified Big Canoe plumber, our trusted technicians at Performance Plumbing are just a phone call away. We're the preferred residential plumbing contractor in Big Canoe, GA, having served the community diligently since 2016!
Whether it's plumbing repair, hot water tank replacement, water heater maintenance, or any other service, we guarantee you 100% satisfaction. Give us a call today to discuss your plumbing needs and schedule immediate service with our proficient technicians.
Is your old water heater giving you problems? Reach out to Performance Plumbing for water heater installation that suits your needs and budget!
Water Leak Detection & Burst Pipe Repair in Big Canoe, Georgia
Time is of the essence in the event of a burst pipe or water leak in your home. A small leak can quickly escalate to severe water damage, and fixing the mess can cost you thousands of dollars if you delay calling a plumber.
Knowing who to call when such a disaster strikes will help you avoid the stress of water damage. If you're looking for a reliable plumber in Big Canoe, GA, to repair your pipes quickly, Performance Plumbing is here to help.
We use the latest technology to accurately detect water leaks and provide solutions that will stand the test of time. Our on-time service will ensure your property is safe from water damage.
Drain Cleaning Services in the Greater Atlanta Metropolitan Area
Ensuring the efficient flow of wastewater in your home is essential for the health and comfort of your loved ones. Sadly, cleaning blocked drains is not as simple as you may think. Doing it yourself can end up in a real mess, or even worse, damage to your drains!
Hiring an experienced drain cleaning company will save you such headaches. Not sure if it's time for clogged drain repair or cleaning?
Look out for these common warning signs:
Slow-draining showers, bathtubs, and sinks
Backup of water around the drains
Puddles of water in your lawn
Strange odors around your home
Our trusted technicians will inspect your drains and recommend the right clogged drain repair depending on the location and size of the blockage. This could be hydro-jetting, snaking, or pipe section replacement.
Do you suspect you have a water leak? Call Plumbing Performance for professional water leak repair today!
Water Heater Heater Services in Big Canoe, GA, Between Jasper and Dawsonville
Are you looking for a knowledgeable residential plumber to help you deal with water heater issues? Here at Performance Plumbing, we offer comprehensive electric and gas water heater services.
Whether it's hot water heater repair, water heater installation, or tankless water heater services, no problem is beyond our capability. If your traditional water heater is past its prime and breaks down every few days or weeks, we suggest you switch to a tankless system.
Some of the benefits of tankless water heaters include space savings, higher energy efficiency, and instant hot water. We provide flexible financing options to help you afford the right water heater.
Recent Jobs and Reviews in Big Canoe, GA
Ready for quality plumbing services from a certified Big Canoe plumber? Give Performance Plumbing a call at 404-637-9017 to discuss your needs and request immediate service in Kennesaw, Hickory Flat, or Big Canoe, GA.